Baseball Field and Facility Services
Thinking about switching from a natural grass baseball/softball field to a synthetic turf field? The facts speak for themselves. Not only does switching to a synthetic turf field cut down on the maintenance costs of mowing, watering, and landscaping, synthetic turf fields can improve your athlete's performance and protect your players from injuries.

At General sports surfaces we start from the bottom and work our way up, cutting no corners along the way. Lime stabilization, fine laser grading, filtered rock, drainage systems, shock pads, and the highest quality, lab tested, synthetic turf on the market are all steps in the process that our expert team meticulously knocks out of the park.  No detail too small, nor project too large. Let General Sports Surfaces go to work for you and we'll score the game-winning homerun.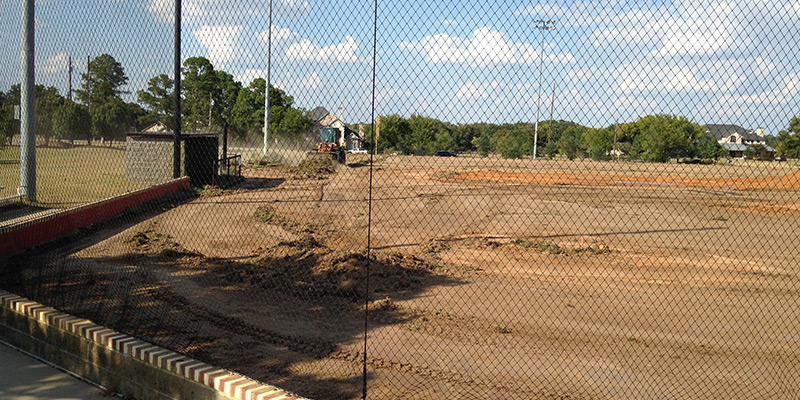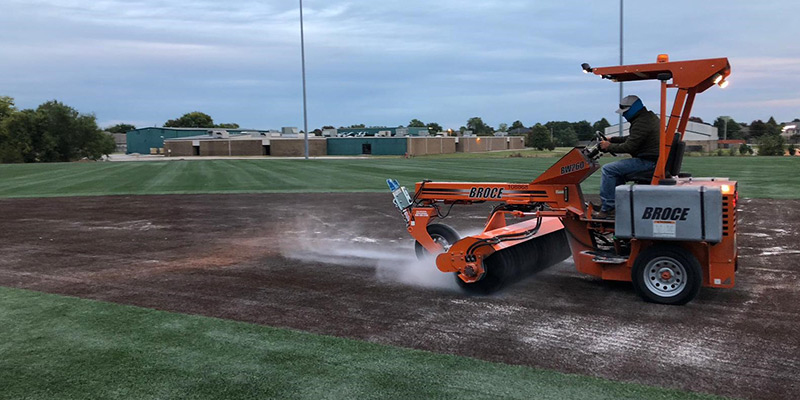 Baseball and softball can cause as much wear and tear on your field as it can your players. From tears in the seams or turf to worn down spots, these not only make your field look bad but can also be a safety hazard to your athletes. So, whether you need a completely new turf field or just a spot here and there, we can handle any size job and it will be completed with the highest quality, lab tested, turfs, infills, and shock pads in the industry by our expert team of experienced installers.
General Sports Surfaces not only replaces and patches the turf that you need; we also rework the base of your field using a fine laser grade to get your field back on level. We don't cut any corners when it comes to the work we do because we are just as passionate about it as you are about baseball/softball. If you are looking to get your baseball/softball field back in peak shape so your players are safe, and you want your field to look amazing again, contact us today!
At General Sports Surfaces we supply and install customized padding, netting and baseball cage and netting systems for indoor and outdoor sports facilities to fit your individual needs.  Our innovative mounting techniques provide the cleanest and most functional systems in the industry.  We can supply and install a customized windscreen, cages or batters eye systems along with cushioned soft guard or fence guard on the fence top rails for added visibility and protection.   We can customize a baseball or softball batting cage canopy netting system to fit it any space to the specifications you desire.
PRODUCT OVERVIEW

Custom sizes, layouts and base plate mounting systems
Variety of standard powder coat colors
PRODUCT OVERVIEW
Custom sizes and layouts available
Standard black powder coated finish
Base plate mounted option available
GSS provides the ultimate spectator protection utilizing high quality netting systems in any configuration.  We can supply and install custom baseball/softball netting systems at any height, length or custom configuration.  Let us help you design, not only the safest, but most visually pleasing facility possible.
PRODUCT OVERVIEW
Tie-back and pole-to-pole systems
Durable powder coated finish
Various netting options available
Overtime, no matter the quality of the turf, field maintenance and repairs are inevitable.Whether it's a loose seem or the infill is too packed down, our expert team can fix it.
MAINTENANCE PROGRAMS GSS'S STANDARDS OF CARE
Inspection
The visual inspection covers seams, hash marks, numbers,arrows, logos, planarity, rips, tears and high traffic areas. All areas of concern are documented in a report submitted to the owner.


Depth Check
Infill Depth/Pile Height: GSS uses an ASTM approved infill depth gauge. At each of the 20 test locations, infill depth is measured three times and the average is recorded. Pile height is also measured and recorded. Consistent, regular monitoring of infill depth and pile height will reveal wear patterns and trends in fiber loss, especially as the field approaches end of life, and will be key indicators for field replacement


Spot Repair
The Turf Technician will also perform spot repairs of small sections where seams or inlays are lifting. He may repair by either hand sewing or regluing using industry accepted adhesive. Longer seams which requiring significant time and materials are subject to approval and additional fees. Infill additions, base work and edge reattachment are not included in the package price. Please see the report for recorded data. Recommendations will be provided if requested.


HIC Test
HIC stands for Head Injury Criterion and is used to gauge the probability of head injury potential resulting from a surface impact. The Triax 2010 records the data at the same time as the GMAX and is provided in the report. The higher the HIC, the more severe and dangerous the impact is to the player. In order to better understand the field's performance, we use 20 test locations instead of 10. This is an additional premium service GSS provides that is included in all packages